As a youth the one thing I always looked forward to each summer was Camp Lumbini – this sentiment continues to this day. As summer approaches, the time I spend with other counsellors becomes increasingly filled with conversations about new ideas for Camp Lumbini or simply recalling past years at camp. Camp Lumbini, in the past, used to have high attendance and it seems as though there are once again several youth attending the camp (16). This year, campers were divided into three teams and participated in various activities related to this years' theme: sesshu fusya. Sesshu fusya is the idea that the Buddha accepts us all as we are. As Shin Buddhists it is not necessary to be perfect; what matters is your intentions and effort.
Every day, each group takes turns conducting service and the group leader prepares a Dharma talk beforehand. In addition to conducting service, each team shares the chore workload at each meal during the day. Furthermore, every year each group creates their own cheer, poster and skit relating to the theme of camp. At the end of the week, the skits are presented. This year, the skits demonstrated the youth's understanding of sesshu fushya mixed in with a lot of hilarity. Every other day, there are larger activities organized for all attendees of Camp Lumbini that includes: bowling, a movie screening, canoeing/kayaking and mini golf. Camp Lumbini provides youth the opportunity to create bonds with other youth while engaging in and reflecting on the Dharma. Although some youth do not always attend regular service, Camp Lumbini provides way for attendees to participate in their own way and even return as counsellors to positively influence the next generation of our youth.
This year we were fortunate to have Ouchi-sensei attending camp this year for the first time as well as welcoming Yuasa-sensei back from the Vancouver temple. This year Ouchi-sensei and Yuasa-sensei designed a musical chairs-like activity that highlighted how the Buddha accepts us all despite our various differences. During their time with us at camp, they participated alongside the campers and were able to form friendships that they will surely cherish. On Thursday Yanko-sensei joined us after Ouchi-sensei departed for the city. Yanko-sensei ran a meditation workshop that focussed on relaxation and accepting yourself as you are in addition to accepting each person's individual differences. Thanks to these workshops, the campers were able to independently draw their own conclusions about the meaning of sesshu fusya. Thanks to the sensei attending camp along with parent volunteers we were able to run camp smoothly. Thanks to volunteers in the past I have many fond memories about Camp Lumbini which is the reason why it is a pleasure to organize Camp Lumbini every summer.
Stephen Taguchi
[ezcol_1third]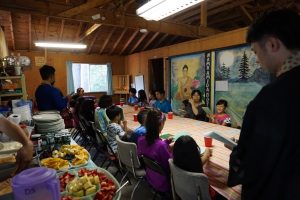 [/ezcol_1third][ezcol_1third]
[/ezcol_1third][ezcol_1third_end]
[/ezcol_1third_end]
[ezcol_1third]
[/ezcol_1third][ezcol_1third]
[/ezcol_1third][ezcol_1third_end]
[/ezcol_1third_end]
[ezcol_1third]
[/ezcol_1third][ezcol_1third]
[/ezcol_1third][ezcol_1third_end]
[/ezcol_1third_end]
Please visit our photo gallery to see more pictures from this event.