Thank you Mochi Tsuki Test Pilots! …and Please Join Us on December 29th for Mochi Tsuki!
Test pilots are a breed apart – they fear nothing and perform extraordinary tasks in challenging environments.
We are grateful for the dedication and sacrifice of twenty brave volunteers who helped process 100 pounds of mochi gome into delicious mochi on November 4th during a Mochi Tsuki readiness check.
Thanks to their efforts we were able to determine what repairs are required for our equipment to be fully prepared for Mochi Tsuki.
Please join us for Mochi Tsuki – all volunteers are welcome and appreciated. Volunteers are provided lunch and 1 dozen free mochi (half dozen for kids).
Mochi Tsuki Schedule:
Thursday December 28th 1pm – wash 800lbs of mochi gome.
Friday December 29th 9am – Mochi Tsuki!
Happy Holidays and see you for Mochi Tsuki!
In Gassho,
Cary Kataoka
President TBC Sangha
[ezcol_1third]
[/ezcol_1third][ezcol_1third]
[/ezcol_1third][ezcol_1third_end]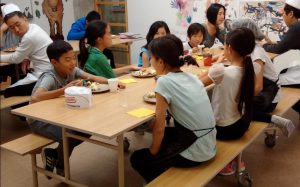 [/ezcol_1third_end]
Please note:
TBC Sangha Mochi Tsuki pick up is Friday, December 29th, 2017. 
Sale hours 12:00 – 3:30pm
To ensure availability please order with the Temple
no later than December 21st, 2017.
Phone (416)534-4302 Fax (416)534-0575
Email: tbc@tbc.on.ca or with Sangha executives
Osonae (Okagami) $4.50 / set
Komochi $4.00 / bag
Anko mochi $6.00 / box 
*** Quantities are limited***