Congratulations to the ladies of TBC Dana who were honoured during the Spring Ohigan service on Sunday, March 19th. A complimentary bento was enjoyed by all followed by an entertainment program. Lovely gifts from the Temple was appreciated by all the honorees.
Perfect weather greeted all those attending the Spring Higan Service and Keirokai celebration and this year, many of our recipients were in attendance.
Keirokai allows us to recognize Temple members who have achieved 77, 88 and 99 years of age. We also recognized 5 members who are over 100 years of age.
Honorees this year are: 77 years old (Kiju) Kiyoko Nishikawa
88 years old (Beiju)
Kiyomi Asada;; Rose Baba;; Hideko Hedy Iwata;; Iwao Kuroyama;; Sueko Michibata;; Sachiko Miyata;; Misako Mori;; Miyeko Mae Ogaki;; Giichi Ohashi;; Emiko Amy Toki;; Yoshiaki Rick Toki;; Michiyo Ueda;; Alice Setsuko Uyeda;; Tomiko Irene Wakayama;; Chiyomi Rose Yokota;; Tomoko Yoshida;; Haruko Bando;; Hideko Fujii;; Yasuko Jean Furukawa;; Miyoko Hamasaki & Tokiye Watte
99 years old (Hakuju)
Kazuo Tom Shimizu;; Kikumi Yoshida & Takeo Yoshida
Over 100 years old
Shigeo Seko (100);; Fusaye Hashimoto (100);; Tsuyo Kusano (101);; Shozo Ishikawa (102) & Yasuko Shimoda (103)
After the morning service, the honorees, their families and congregation gathered in the Social Hall to enjoy a delicious bento lunch prepared by Tori Ichii.
The afternoon festivities, co-hosted by Akiko Nishimura and Bob Nishikawa, started with Isshin Daiko performing 2 taiko numbers with the second being an amazing light show. Many of our honorees performed Karaoke: Iwao Kuroyama;; Rick & Amy Toki;; Giichi Ohashi & Bob Nishikawa. The church choir sang Chikuma Gawa and a sing-a-long to This Land is Your Land. Many Kids Sangha members performed: piano solos by Patricia Simose and Amy Tanaka respectively;; The Cup Song by Sophie Erenberg and Mokoto Jacin;; Chenuli Hunukubura sang Zou San and a Taekwondo demonstration by Rikizo & Misuzu Tamaki. You would think that with this line-up of talent it couldn't be topped, but our Ministers proved us wrong. Rev. Christina and Atticus sang The Rainbow Connection and Rev. Yoshi, along with the TBC Buyo Group, performed their version of YMCA by the Village People but renamed it YPBA (Young Persons Buddhist Assoc.). Ending all of this talent, we were delighted to have Sachiko Hata-Pereklita, accompanied on piano by Takayuki Fukada, sing Ai no Katachi.
Thank you to all our performers, special guests, Temple members and volunteers who helped make this day a special one and we hope to see all of you for our 2018 celebration.
TBC Special Projects, Religious and CCOV Team 5
[ezcol_1third]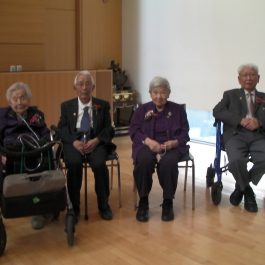 [/ezcol_1third][ezcol_1third]
[/ezcol_1third][ezcol_1third_end]
[/ezcol_1third_end)
[ezcol_1third]
[/ezcol_1third][ezcol_1third]
[/ezcol_1third][ezcol_1third_end]
[/ezcol_1third_end]
[ezcol_1third]
[/ezcol_1third][ezcol_1third]
[/ezcol_1third][ezcol_1third_end]
[/ezcol_1third_end]
[/ezcol_1third]
[/ezcol_1third][ezcol_1third]
[ezcol_1third][ezcol_1third_end]